If there are two things that have been  constants in my life, it's Clarks Originals and reggae music, getting into both of them from a very early age, they've stuck with me through thick and thin. Two reliable old friends in an increasingly inconsistent and crazy world. Though totally un-connected to me, Clarks Originals have hooked up with legendary Reggae label Trojan and their brilliant Sound System to take part in OriginalsLive. Impressed by this we decided to give the sound system's mixdown specialist Daddy Ad a bit of a grilling about his musical past, favourite effects and why Jamaicans love a nice bit of suede…..
ProperMag: You've worked with a fair few of our reggae heroes, such as Eek-A-mouse, Gregory Isaacs, Dennis Alcapone and Dillinger. How did this come about and do you have any stand-out memories from these times?
Daddy Ad: WE SOMETIMES BRING ORIGINAL RECORDING ARTISTS FROM THE LABEL ONTO THE SOUND AND IT GIVES THEM A CHANCE TO GET BACK TO THEIR IMPROV ROOTS AS THEY ALL STARTED ON SOUND SYSTEMS BACK IN THE DAY. EEK-A-MOUSE IS CRAZY. HE'S LIKE 7′ TALL, BUILT LIKE A BODY BUILDER AND THEN HAS THIS TINY LITTLE VOICE. PURE VIBES.
You also toured with the Godfather of soul himself how was that?
SURREAL AND A BAPTISM OF FIRE. I WAS HIS EUROPEAN MANAGEMENT FOR THE LAST THREE YEARS OF HIS LIFE, WORKING FOR HIS GLOBAL MANAGER SUPERFRANK, ANOTHER LEGEND. MR. BROWN WAS WITHOUT QUESTION THE HARDEST WORKING MAN IN SHOW BUSINESS AND SO WERE WE!
You're now a key part of the legendary Trojan Sound system, what does the label mean to you and how does it feel to now be one of the crew?
IT'S A RESPONSIBILITY I DON'T TAKE LIGHTLY AND FEEL HONOURED TO FLY THE FLAG. WE'RE ALSO ON THE SAME MISSION AS CHRIS BLACKWELL WHEN HE WAS INVOLVED AND WANT TO SPREAD THE POSITIVE HEART OF REGGAE TO AS MANY PEOPLE AS POSSIBLE AROUND THE WORLD. WE ALL NEED MORE POSITIVITY AND REALITY IN THIS SAD AND CORRUPT WORLD.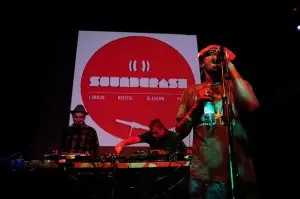 Do you have a particular favourite era or artist from Trojan's impressive back catalogue?
FOR ME EACH ERA HAS ITS OWN BEAUTY, POWER AND IMPORTANCE, WHETHER IT'S EARLY BLUE BEAT AND SKA, ROCKSTEADY, REGGAE, DEEP ROOTS, OR DANCEHALL. WE JUST LEAVE OUT NEGATIVITY AND SLACKNESS, EVERY TRACK WE PLAY CARRIES A MESSAGE.
As a 'mixdown' specialist where do you source your sound effects from and what kind of samples or noises get the best crowd reactions?
I'VE BEEN GIVEN THE BEST SOUND EFFECTS FROM THE BEST SYSTEMS AROUND THE WORLD, WHETHER THAT'S STONE LOVE IN JA OR MIGHTY CROWN IN JAPAN. WE ALSO DEVELOP OUR OWN EFFECTS IN THE STUDIO AND ALSO CREATE THEM LIVE THROUGH TOUCHSCREEN FX UNITS. I'M A SUCKER FOR THE CLASSIC AIR HORN, GEMINI AND LASER BEAM THOUGH!
In terms of mad/impressive sound effects, do you have a favourite album? (Time Boom… by LSP & Dub Syndicate is mine)
NOT REALLY. ALBUM EFFECTS HAVE A DIFFERENT VIBE TO A LIVE SOUND SYSTEM AND ARE BEDDED MUCH MORE WITHIN THE PRODUCTION. I LOVE LIVE RECORDINGS OF SOUND SYSTEMS IN ACTION AND FEEL THE RAWNESS OF THAT VIBE AND WHAT'S GOING ON IN THE DANCEHALL.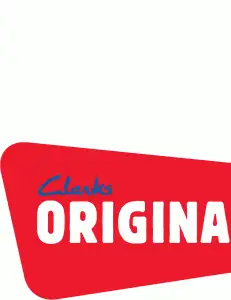 Trojan are currently collaborating with Clarks Originals as part of the OriginalsLive project, are you a fans of the shoes?
ABSOLUTELY. IT'S A COMPLETELY NATURAL BRAND PARTNERSHIP, WHICH IS REFRESHING IN THE MUSIC INDUSTRY WHERE SO MANY PARTNERSHIPS ARE SHOE HORNED (FORGIVE THE PUN!). CLARKS ORIGINALS ARE THE AUTHENTIC RASTAMAN SHOE.
Clarks Originals are highly respected in Jamaica aren't they? Why do you think this is?
QUALITY STANDS THE TEST OF TIME, AS DO ICONIC DESIGNS AND THESE ARE CORE VALUES TO MANY IN JA AND AROUND THE WORLD.
If you could create a reggae super-band featuring any combination of artists living or dead, who would make the line-up?
WHOA! DENNIS BROWN AND BOB MARLEY SPRING TO MIND AS LEAD VOCALISTS, AS DO A THOUSAND OTHERS, FROM ALTON ELLIS TO PRINCE BUSTER. MUSICIAN WISE, JACKIE MITTOO ON KEYS, SLY AND ROBBY ON THE RIDDIM SECTION, RICO RODRIGUES ON TROMBONE, ERNST RANGLIN ON GUITAR, I THREES ON BACKING VOCALS AND EARL GATESHEAD AND I SITTING BEHIND THE DESK WITH KING JAMMY
Do you have a favourite reggae lyric or song title?
ONE LOVE.
Given that the current political climate seems to be reflecting how the UK was in the late 70s/early 80s do you think reggae will follow suit and sound-track these troubled times as it did back then?
WE CERTAINLY DO AND HAVE BEEN FOR YEARS. THE TRACK "MY GOD" DIRECTLY ADDRESSES THE NEGATIVITY OF WHAT HAPPENED WITH THE WIDESPREAD LOOTING AND THIEVERY AND EVERY TRACK WE WRITE ADDRESSES THE REALITY OF THE WORLD WE LIVE IN AS WELL AS GIVING AN ASPIRATION FOR WHERE WE COULD BE IF WE ALL WORKED TOGETHER POSITIVELY. WE HAVE A TRACK READY FOR RELEASE CALLED "REVOLUTIONARY", BUT WE'RE HOLDING IT BACK AS THESE PEOPLE ARE A DISGRACE TO THE IDEA OF REVOLUTION AND CHANGE.
What can we expect to see/hear from the Trojan Sound System next?
DOWNLOAD THE TRACK FROM www.clarksoriginals.com TO GET A FEEL. OUR MAIN MISSION IS TO KEEP REGGAE MOVING FORWARD AND SHARE THIS HUGE WEALTH OF AMAZING MUSIC AND VIBES TO NEW AUDIENCES. REGGAE IS A BIT LIKE JAZZ, IN THAT THERE'S SO MANY DIFFERENT STYLES AND ARTISTS, THE NOVICE DOESN'T KNOW WHERE TO START. WE TRY TO BUILD BRIDGES IN THAT RESPECT AND MAKE IT RELEVANT, WHETHER IT'S TO A HARDCORE REGGAE CROWD, PEAKTIME AT KOKO, FABRIC ROOM 1 OR THE BIG TOP AT BESTIVAL.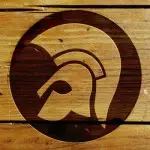 http://www.myspace.com/trojansoundsystem